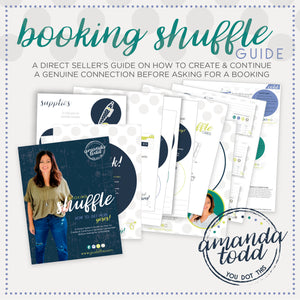 How do you genuinely warm up a person before asking them to host? (Moving in too fast is a big mistake many direct & social sellers make.) The key to getting more 'yeses' is to be sure the path from stranger---> acquaintance---> friend is authentic.
In this guide, you'll learn my simple, super-duper easy way of organizing your contacts so that when the time is right to ask for a booking, it feels good for both of you. You want more hosts, right?! If you follow the steps outlined here, and you don't rush or skip over them, the positive results that you want (ummm, more bookings!!) will happen.

TERMS & CONDITIONS
Items are licensed for your personal use only. Sharing, distributing or making copies for purposes other than for your individual use is unauthorized & strictly prohibited. Cannot be sold or redistributed. Digital products are non-refundable.
Copyright ©You Dot This, All Rights Reserved