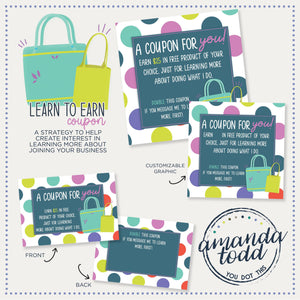 Are you ready to GROW your team? 


Recruiting can be hard, but not anymore- I DOT YOU, GIRL. 
Created just for you is a strategy to help create interest in learning more about joining your business. 
Offer a coupon for those willing to just listen to the details of doing what you do!

Snag this CUSTOMIZABLE coupon graphic set to encourage the ladies around you to LEARN and EARN!


TERMS & CONDITIONS 
Items are licensed for your personal use only. Sharing, distributing or making copies for purposes other than for your individual use is unauthorized & strictly prohibited. Cannot be sold or redistributed. Digital products are non-refundable. 

Copyright ©You Dot This, All Rights Reserved