Hey there!
I'm Amanda Todd, the driving force behind YOU DOT THIS!
It's like, "You Got This" but with dots 'cause I love 'em! We all know that as business owners, there are times when the path ahead seems unclear. That's where I come in… to connect all your business dots and provide you with the tools and training you need to confidently navigate the "how" of direct & selling socially. With a passion for all things creative and a little sprinkle of quirkiness, I'm a queso enthusiast, dedicated Jesus lover and a firm believer in infusing joy into every aspect of life. When I'm not scrolling online, I'm either indulging my love for a long nap or hunting for treasures at yard sales. I've walked the direct selling path for over two decades, and I'm all about making processes simple and success tangible online.
We've Got You Covered
From pioneering the first Facebook party concept in 2010 to co-founding The Tag Team and training thousands of social sellers since, my journey in this industry has been incredible. I've mastered and developed strategies that work. My mission is clear: to equip you with straightforward processes, formulas and actionable ideas that lead to success. By sharing the "how" of social selling, I aim to empower you to confidently say, "I Dot This!" Welcome to a world where queso dreams meet savvy strategies… Welcome to YOU DOT THIS!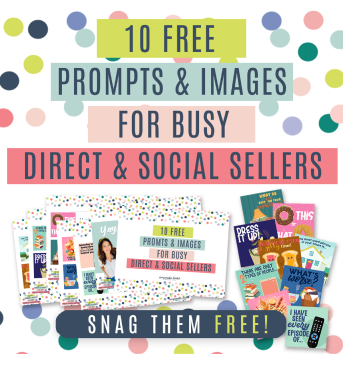 Get Started With 10 free prompts & images for busy direct & social sellers
Snag these 10 FREE daily conversation starters that will help you build a genuine connection with your people and create opportunities to sell, book & recruit!