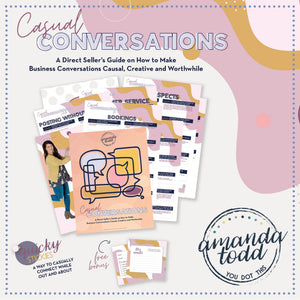 As a direct seller, do you struggle with what to say and how to say it? You know you need to talk about your business in casual conversations, but you lack the confidence to do it smoothly. 
If you've ever felt awkward sharing your business or your products, or talking about what you do, know you are not alone! We've all been there - even me. 
The Casual Conversations Guide is a collection of the most common scenarios categorized with the top direct selling situations. You'll have the exact verbiage (over 55 samples!) to use with people you meet, your hosts, customers, and solid responses to copy and paste online too! Use the words that work to make your own business-changing connections!
TERMS & CONDITIONS
Items are licensed for your personal use only. Sharing, distributing or making copies for purposes other than for your individual use is unauthorized & strictly prohibited. Cannot be sold or redistributed. Digital products are non-refundable.
Copyright ©2021 You Dot This, All Rights Reserved