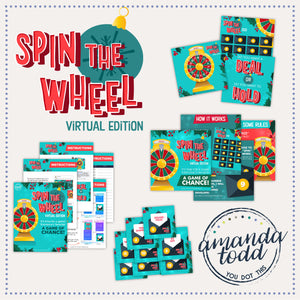 Ready for a tried-and-true party game designed to get you BOOKINGS?? 
You need the CHRISTMAS-THEMED VIRTUAL SPIN THE WHEEL GAME, girl!!
(It's like the Virtual Dice Game-- but with a new spin!!!)

Drive participation, engagement, and bookings with this irresistible game of chance. 

You get all the graphics - and verbiage! - you need to entice game players at your next Facebook party (or in your group!!) PLUS a custom-made GIF designed just for this game! 

Your purchase comes with a full blueprint of how to play, what to post, verbiage for all scenarios, a custom engagement-driving GIF, and a tracking sheet to organize your party participants. Grab it today!

TERMS & CONDITIONS
Items are licensed for your personal use only. Sharing, distributing, training or making copies for purposes other than for your individual use is unauthorized & strictly prohibited. Cannot be sold or redistributed. Digital products are non-refundable or exchangeable.
Copyright © You Dot This, All Rights Reserved