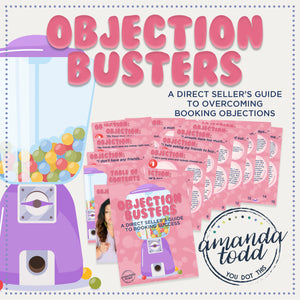 Get ready to be blown away with the "OBJECTION BUSTERS" guide! Whether you're a seasoned direct seller or just starting out, this comprehensive guide is your go-to resource for taking your bookings to the next level.
Say goodbye to booking stress and hello to confidence and success. This guide is packed with proven strategies, creative ideas, and practical verbiage to overcome common booking objections all direct sellers face. No more wondering how to respond when someone says, "I don't know who to invite" or "I'm not sure my friends would buy."
Inside, you'll find:
95 examples of copy-and-paste verbiage to swipe when you get stuck.
Expert advice on handling 19 common booking objections with finesse, turning doubts into excitement and more YESES!
With the "OBJECTION BUSTERS" guide there won't be any more sticky situations that'll leave you wondering how to respond. This tool is one you'll go back to again and again and again. Easily look up your potential host's objection and copy the response of your choice into a text or DM. Gum-believable, right??
Grab your copy and start blowing the objections away! 
TERMS & CONDITIONS

Items are licensed for your personal use only. Sharing, distributing, training on, or making copies for purposes other than for your individual use is unauthorized & strictly prohibited. Cannot be sold or redistributed. No refunds on digital products.

Copyright ©You Dot This, All Rights Reserved