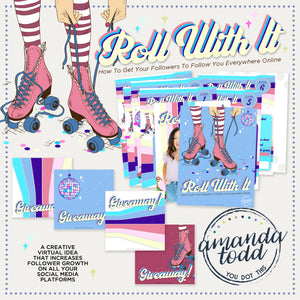 As a social seller, I'm guessing you have a social media presence in more than one place, right? You're probably on Facebook (maybe you have a group and a biz page there)... Instagram… Twitter… Snapchat... TikTok?? Maybe you even have a text list for your customers or an email list too?? And my guess is that your following on one is greater than the others… yeah? THEN IT'S TIME TO LACE UP YOUR SKATES AND MAKE A LAP AROUND THE VIRTUAL ROLLER RINK!
In this done-for-you promo, your goal is to invite your followers from each online space to follow you in the other places you hang out online by making a virtual lap around all your online spaces! 
Included in this guide are all the steps, verbiage (and room to brainstorm!) that you'll need to plan out your ROLL WITH IT promo plus 4 bonus template options ready for your personalization! 
TERMS & CONDITIONS

Items are licensed for your personal use only. Sharing, distributing, training on, or making copies for purposes other than for your individual use is unauthorized & strictly prohibited. Cannot be sold or redistributed. No refunds on digital products.

Copyright ©You Dot This, All Rights Reserved